Signal Generators for Professional Use
Kuhne electronic Signal Generators are available in the following variations:
RF Generator as Compact Module in the form factor of a power amplifier (frequency and power can be adjusted)
Laboratory Instrument for immediate use with self-explaining user interface for adjustment of frequency and power as well as multiple monitor information possibilities
Typical applications for this product category are test systems of the propagation of radio waves, RF heating and EMC testing.
All modules and devices have an Isolator at the output to be protected against high VSWR.
Further signal generators with customized features (frequency range, power) available on request.
Secure Payment
SSL encrypted
100% Protection
of your personal data
Quality guarantee
Satisfied or money back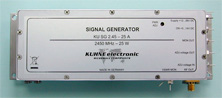 KU SG 2.45 - 25 A - Signal generator
Frequency accuracy
+/- 10 kHz
Harmonic rejection
min. 50 dB
Output power
1 ... 25 W (adjustable)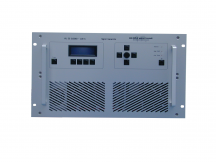 Frequency range
3400 ... 3600 MHz
Output power
10 ... 400 W (adjustable in 10 W - steps)
Case
19 inch case (6 HU) / aluminium
Dimensions
482.6 x 267 x 450 mm